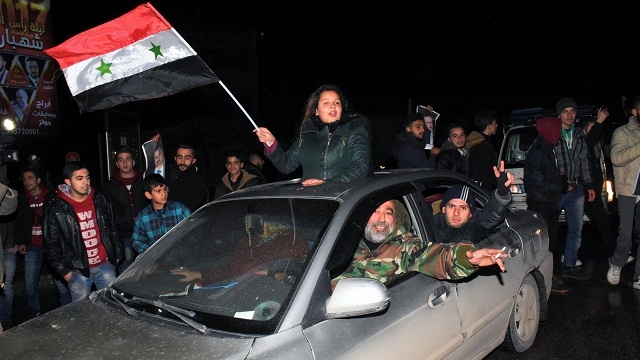 This is a well established foreign affairs journo at the daily mail. This has been one of the only articles in the imperialist mainstream media that has questioned anything of western reporting on Syria of late. The imperialists can afford to have this article out there, as its the only one and it helps to create a atmosphere that there is a critical conversation about these things when there clearly isnt one, and the publication of such an article indicates that the imperialist lies are so bad, that they have to put this out. - Sons of Malcolm
---------------------------------
...the old cliche 'the first casualty of war is truth' is absolutely right, and should be displayed in letters of fire over every TV and newspaper report of conflict, for ever.
Almost nothing can be checked. You become totally reliant on the people you are with, and you identify with them.
If you can find a working phone, you will feel justified in shouting whatever you have got into the mouthpiece – as simple and unqualified as possible. And your office will feel justified in putting it on the front page (if you are lucky).
And that is when you are actually there, which is a sort of excuse for bending the rules.
In the past few days we have been bombarded with colourful reports of events in eastern Aleppo, written or transmitted by people in Beirut (180 miles away and in another country), or even London (2,105 miles away and in another world). There have, we are told, been massacres of women and children, people have been burned alive.
The sources for these reports are so-called 'activists'. Who are they? As far as I know, there was not one single staff reporter for any Western news organisation in eastern Aleppo last week. Not one.
This is for the very good reason that they would have been kidnapped and probably murdered. The zone was ruled without mercy by heavily armed Osama Bin Laden sympathisers, who were bombarding the west of the city with powerful artillery (they frequently killed innocent civilians and struck hospitals, since you ask). That is why you never see pictures of armed males in eastern Aleppo, just beautifully composed photographs of handsome young unarmed men lifting wounded children from the rubble, with the light just right.
The women are all but invisible, segregated and shrouded in black, just as in the IS areas, as we saw when they let them out.
For reasons that I find it increasingly hard to understand or excuse, much of the British media refer to these Al Qaeda types coyly as 'rebels' (David Cameron used to call them 'moderates'). But if they were in any other place in the world, including Birmingham or Belmarsh, they would call them extremists, jihadis, terrorists and fanatics. One of them, Abu Sakkar, famously cut out and sank his teeth into the heart of a fallen enemy, while his comrades cheered. This is a checked and verified fact, by the way.
Sakkar later confirmed it to the BBC, when Western journalists still had contact with these people, and there is film of it if you care to watch. There is also film of a Syrian 'rebel' group,
Nour al-din al Zenki, beheading a 12-year-old boy called Abdullah Issa. They smirk a lot. It is on the behalf of these 'moderates' that MPs staged a wholly one-sided debate last week, and on their behalf that so many people have been emoting equally one-sidedly over alleged massacres and supposed war crimes by Syrian and Russian troops – for which I have yet to see a single piece of independent, checkable evidence.